SOCIAL SKILLS À LA CARTE…
---
… OR COOKING TOGETHER AS A GREAT WAY OF TEACHING TEAM SPIRIT.
THE KATZBECK APPRENTICES HAD THIS PARTICULAR PLEASURE ON 20 MAY 2016 IN THE MIELE KITCHEN SHOWROOM IN GRAZ.
The event kicked off with a brief theory section that explained what teams are and how they function. Then the apprentices formed small teams to master the challenges of deciding on a menu, calculating quantities and prices, scheduling and of course dividing up the tasks of preparing the individual menu courses within the team.
During the subsequent reflection session, the apprentices voiced that not only does team cooking foster togetherness, it also promotes values such as respect, trust, responsibility, helpfulness and honesty. Naturally, they also considered the aspect of health by only using fresh and salubrious ingredients. The result was fantastic – so dining on their courses they'd prepared as a team was even more fun!
A big thank you to all participants and to the firm UCON for a successful workshop!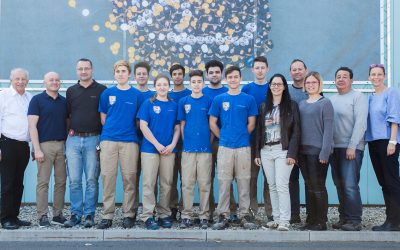 ---
Our apprentices pocketed first and second places in the Burgenland state competition for apprentice carpenters. In total, there were four 'Katzbecks' in the best five.
---
read more