We have been honoured
to receive the
following awards
---
We have been honoured to receive the following awards
---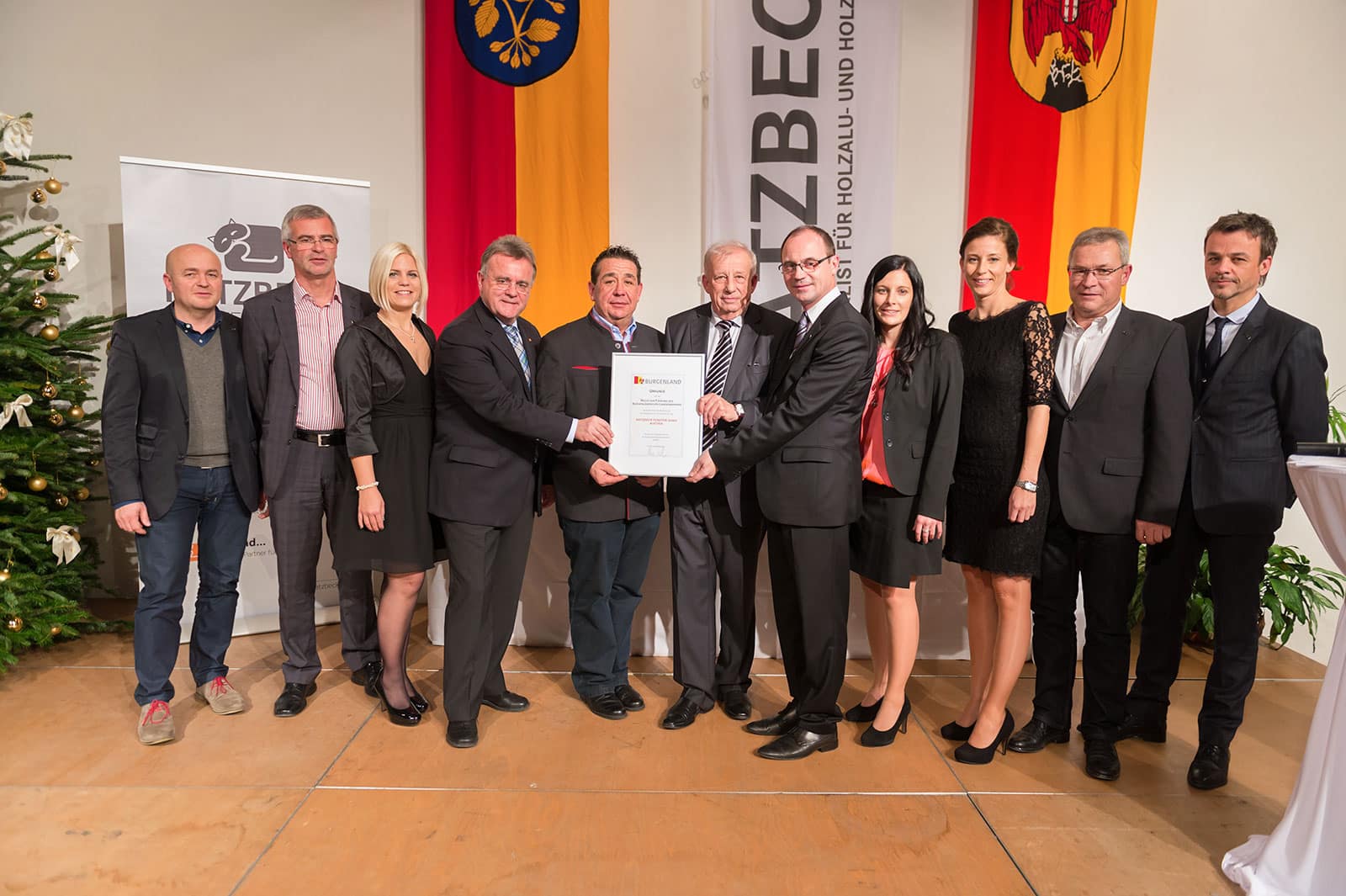 BURGENLAND COAT OF ARMS FOR KATZBECK WINDOWS
---
This award is in recognition of the company's particular services as an economic driver, important employer and trainer of apprentices in the Burgenland region. State Governor Hans Niessl expressed his gratitude for the diligence and ambition, as the firm Katzbeck has been a flagship of the Burgenland economy for over 60 years. Deputy Governor Mag. Franz Steindl praised the company's social attitudes and expressed delight that the Katzbeck Group will remain true to the successful Burgenland model in future as well.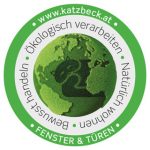 KATZBECK: green windows, green doors, green company
---
Do you have children? How about grandchildren? Then you will certainly be concerned that we leave the planet in a good and habitable condition. But for this to happen, we will need to reduce CO2 emissions significantly to stop global warming. We will all have to contribute to overcoming this challenge. Katzbeck, the green company, can help you.
What's more: Here at KATZBECK, we contribute to the environment and climate protection as a manufacturer and an employer. Quite simply: wood is better. We use wood to manufacture high-quality doors and windows. This natural resources, which renews itself continuously, offers plenty of benefits for your and the environment. Producing synthetic materials like PVC generates large amounts of CO2 and consumes irreplaceable fossil fuel. In contrast, wood binds huge quantities of CO2 as it grows, keeping the air clean and healthy. Another increasingly important factor is the energy efficiency of construction materials. Here as well, the specific properties of wood trump synthetic materials hands down.And you save money. You will have more cash jingling in your wallet if you cut back on CO2 emissions and energy consumption. You will also have contributed actively to keeping the Earth livable for coming generations.
Caron footprint in Austria. We prefer suppliers from Austria and avoid unnecessary transports, as we primarily cooperate with regional providers and plan our delivery routes to protect the environment. Moreover, we trust in the excellent and natural insulation properties of wood in the manufacture of our doors and windows.
Solar power. Weare pioneers in the area of innovative energy efficiency. "Clean. Silent. Sustainable. Our photovoltaic system is a benefit in every respect", says Hans Peter KATZBECK, visibly delighted as he talks about the 1,800 m² solar power plant on the roof of the headquarters in Rudersdorf. He continues: "We use it to generate around 300,000 kilowatt hours of solar electricity each year, which is equivalent to the annual power consumption of approximately 85 households. We cover a quarter of our own electricity needs and prevent 300 tons of greenhouse gas!"
Green mobility. And more. KATZBECK also operates a charging station for 4 electric cars and 5 e-bikes. We accept responsibility in the region, so we allow the residents of the region and the employees at KATZBECK to benefit from electromobility and therefore make an active contribution to climate protection.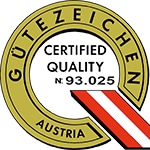 Austria Quality Seal for KATZBECK
---
Periodic external monitoring ensures adherence to the highest quality standards in production and fulfilment at KATZBECK. This has been expressed for many years by the award of the Austria Quality Seal.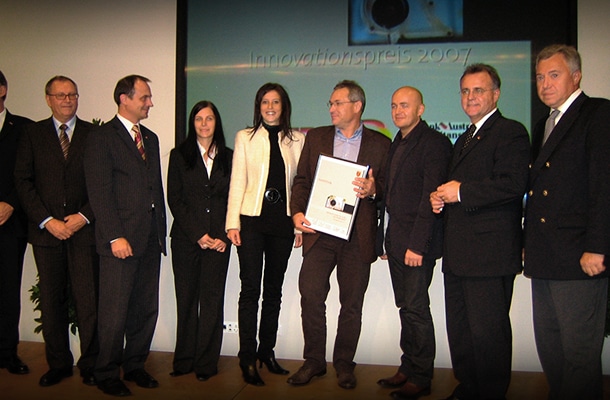 Innovation award for the KATZBECK D1 wood/aluminium windows
---
KATZBECK, the successful company from the Burgenland region, has responded to the challenges of modern architecture by launching its 'D1', a radically new, design window concept by the in-house research and development department. This product raises the bar in the window market. It received the Burgenland Innovation Award 2007 in recognition. The new wood/aluminium window system is innovative in every respect: new design, new finishing, new materials and new ease of use. It also maximises thermal insulation and comes series-fitted with integrated break-in protection, combined with an extended service life and easy maintenance – without costing any more than a standard wood/aluminium window.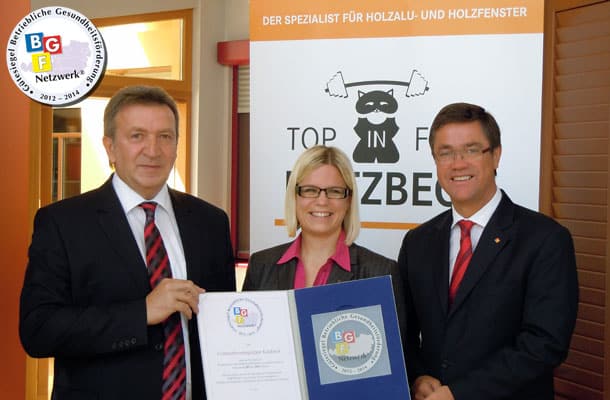 KATZBECK awarded the Quality Seal for Occupational Health and Safety
---
TOP IN FORM, the project for occupational health and safety, makes KATZBECK a pioneer in the Burgenland healthcare sector. Now, the specialist for wooden and wood/aluminium windows has become the first Burgenland company to receive the Quality Seal for Occupational Health and Safety.
The 'Healthy Company' has offered its employees activities to increase their quality of living since September 2009 as part of the TOP IN FORM project. Smoking cessation courses, biofeedback stress tests and exercise coaching at the workplace are just a few of the many activities. After receiving the Health Award in 2011, KATZBECK has now been given the Quality Seal for Occupational Health and Safety by Councilor Dr Peter Rezar and Josef by Grafl, Regional Chairman of the Burgenland Region Health Insurance Fund. This seal of quality is awarded to companies that have shown particular merit in the promotion of occupational health, for instance by including and ensuring active participation by all employees, the integration of health measures in work processes and company policies, and by installing project management and evaluation for all health promotion measures.
KATZBECK views these quality criteria as self-evident and will continue to take action at numerous levels to ensure that its staff can benefit from a healthy working environment.
KATZBECK the first company to be awarded the Quality Seal for Occupational Health and Safety for the second time
---
KATZBECK is the first company from Burgenland to be awarded the Quality Seal for Occupational Health and Safety for the second time in recognition of its exemplary health programme. The window specialist is a pioneer in this area.
With noticeable success: The 65-year-old company has registered a drop in health complaints and absences due to sickness. Staff satisfaction has risen along with the appreciation of each individual's contribution to the company. "We want to stay true to our motto and remain a cat's whisker ahead in the area of occupational health and safety as well", says Nina Katzbeck.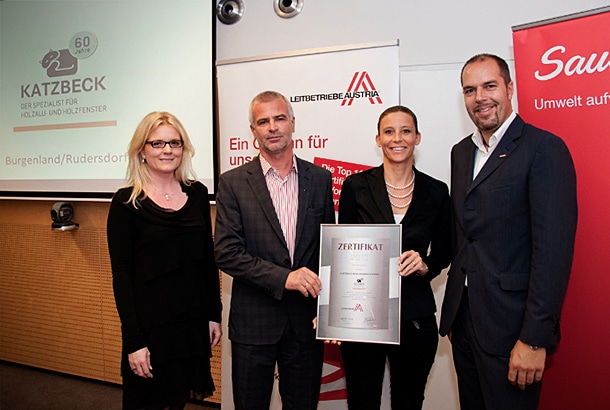 Katzbeck is a Leading Company
---
The specialist for wooden and wood/aluminium windows was certified as an Austrian Leading Company on 15 October 2012. This title is awarded to companies that attach significant value to innovation, sustainability and social responsibility. Managing Director Daniela Katzbeck and Company Officer Günter Fritz accepted the certificate from Mag. Jürgen Roth, Vice President of the Styrian Chamber of Commerce, and Mag. Monica Rintersbacher, Managing Director of Leitbetriebe Austria, in the Saubermacher Ecoport Halls in Feldkirchen near Graz.
We are proud to be one of the 1,000 businesses in Austria who have earned the right to carry the title of Leading Company!