LIFT & SLIDE DOORS – Wood & aluminium/wood
---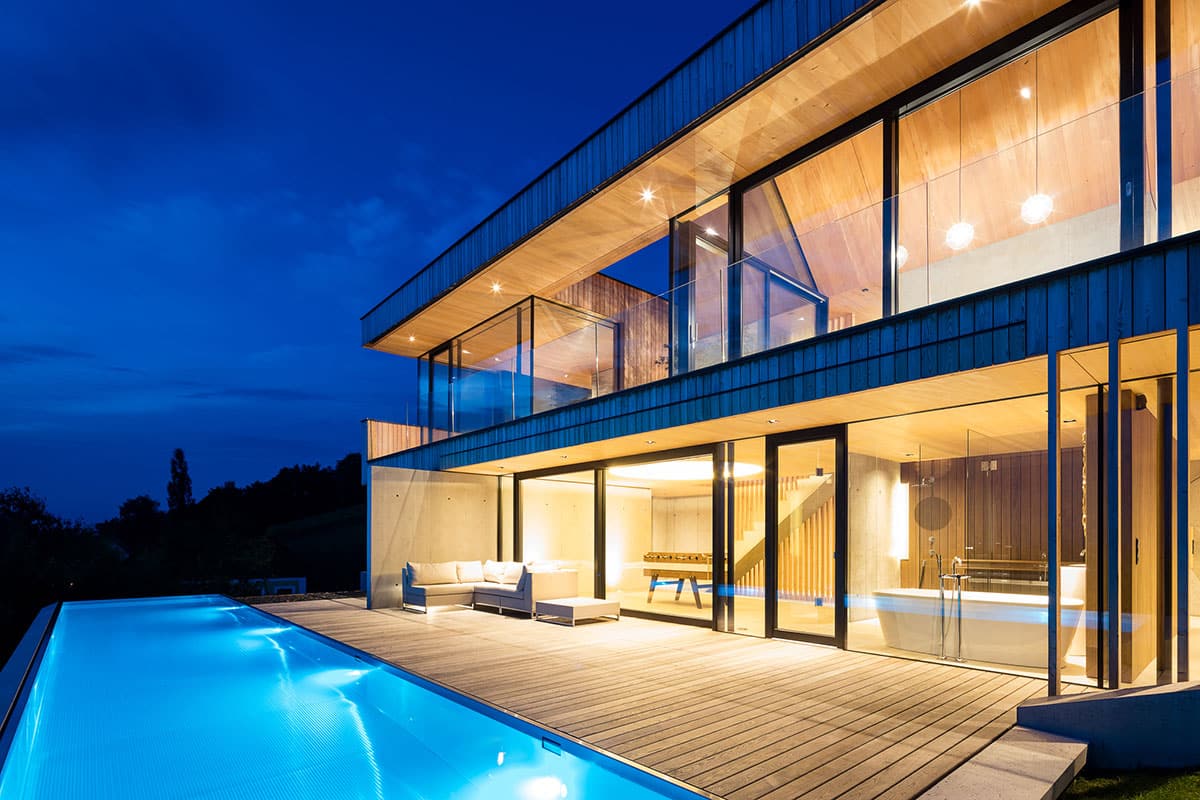 Light floods the room, and you feel as close to nature as could ever be possible inside your own four walls.
The floor-to-ceiling lift & slide doors by KATZBECK give you precisely this feeling. The slender frame and the entirely frameless fixed part allow for the largest possible glazed surfaces, while the flat rail at the bottom and the concealed rail at the top guarantee a delightful look. The door can be pushed entirely to the side and therefore does not take up any space. It only takes a gentle nudge to slide the door to the side – KATZBECK has invested heavily in development to create the perfect blend of design and function.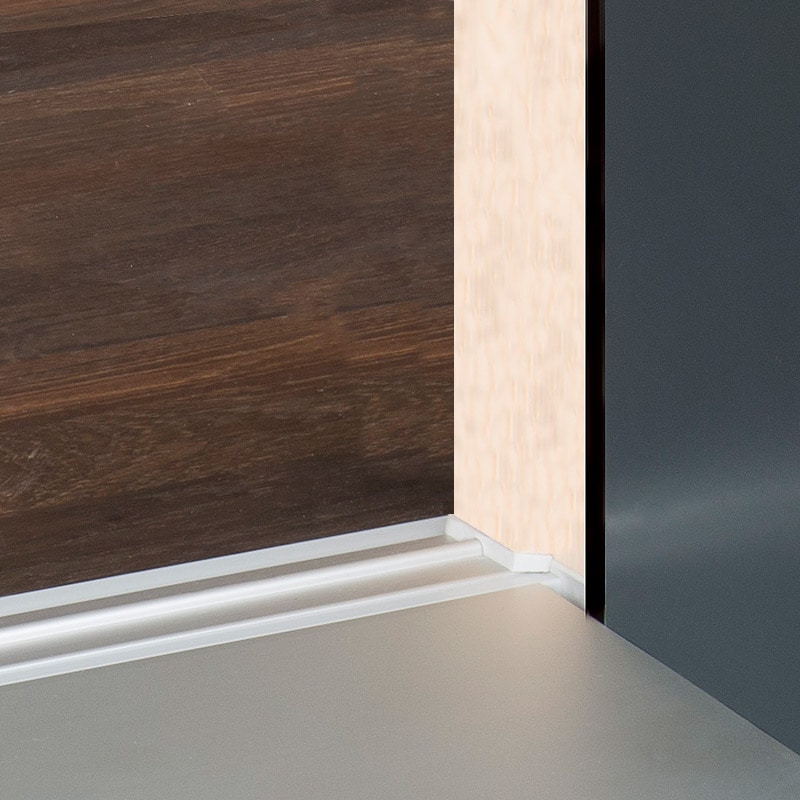 ---
ENGINEERED ACCESSIBILITY
The system is flush with the floor for unobstructed accessibility. Lift & slide door as an attractive design element in the room.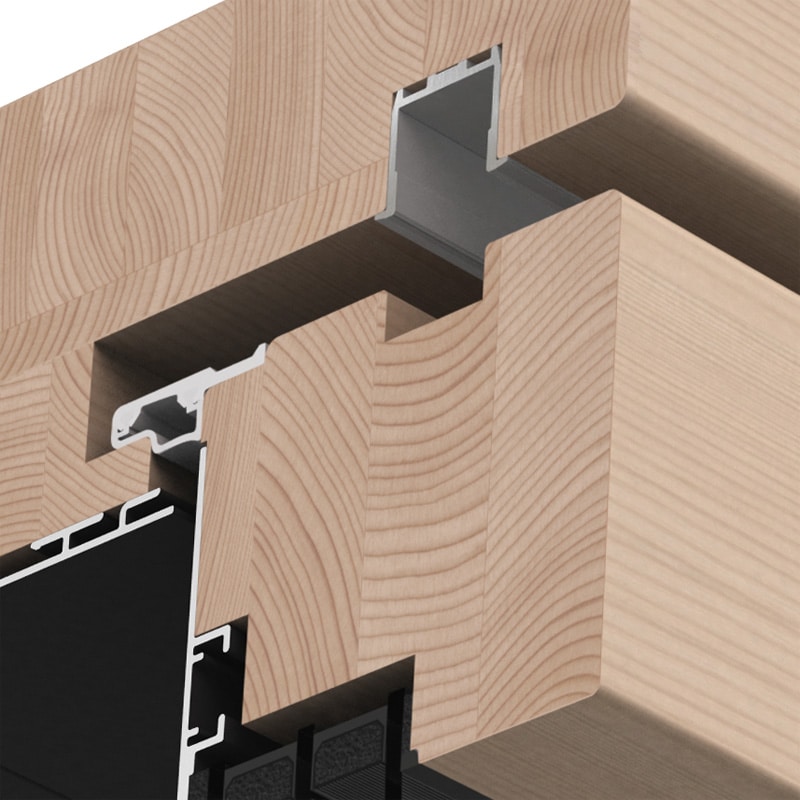 ---
FLUSH TOP GUIDE RAIL
The optional end position damper ensures that the wing closes easily and quietly. No fittings to ensure an unobstructed view.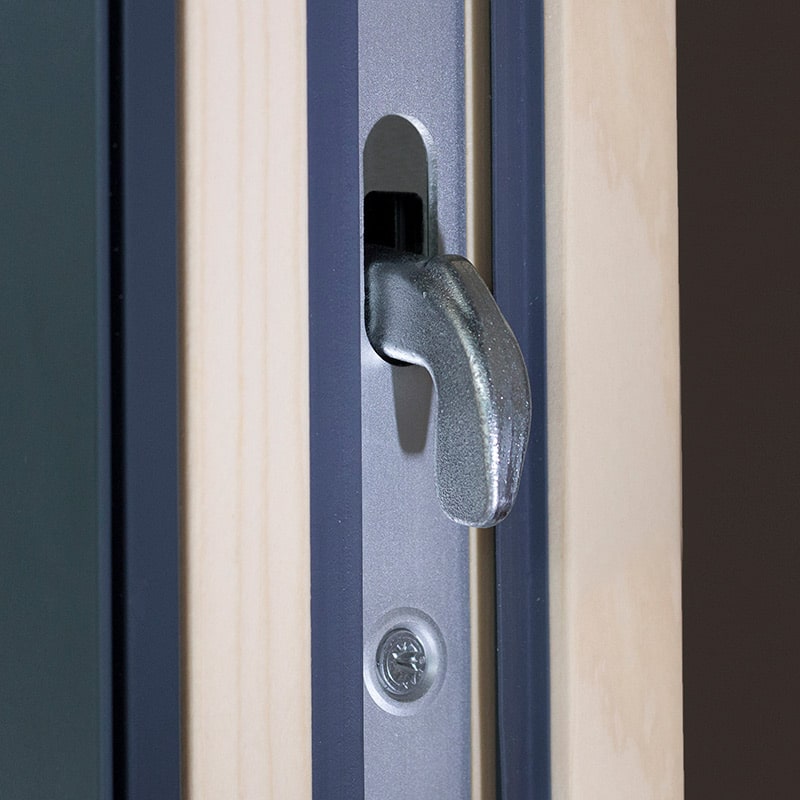 ---
STEEL HOOK TRANSMISSION FOR IMPROVED BREAK-IN RESISTANCE
The locking hooks retract completely above the handle position and into the lift & slide wing when the element is open. No locking component protrudes, nothing obstructs the view. The hook slides into the lock when the door is closed. The system can also be combined with a lock monitor.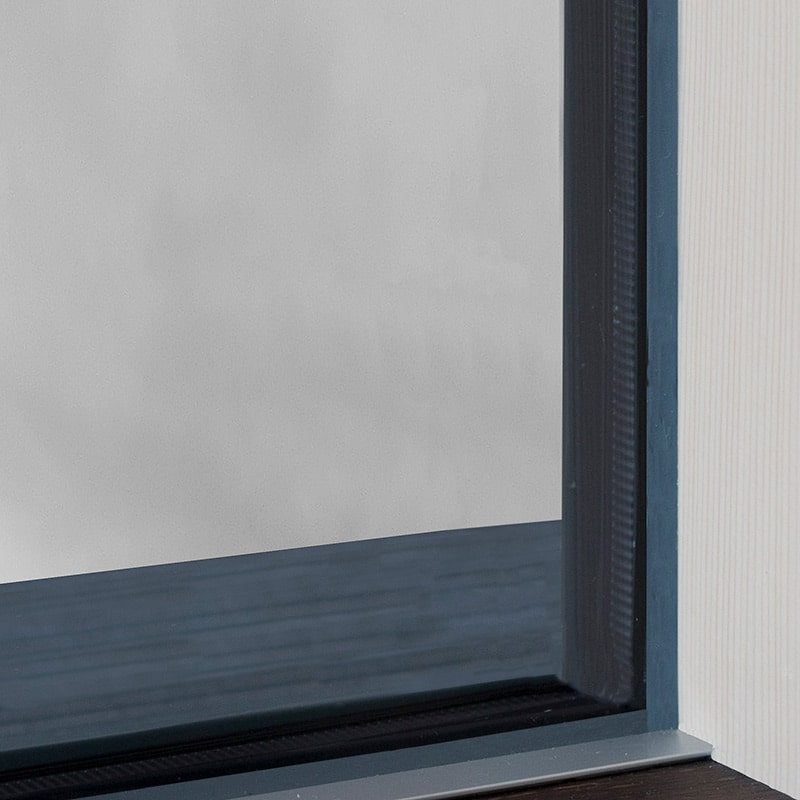 ---
FRAMELESS FIXED GLAZING FOR A PANORAMIC VIEW
Maximum light incidence thanks o the expansive glazing.
---
SPECIAL SEALING SYSTEM
High wind and rain-resistance factor. We love the environment around us &amp and take responsibility
---
Our timber comes from sustainable and mainly local forests. But we take environmental awareness to an entirely different level. Besides a solar power system for green electricity, we also have several electric vehicles and a charging station for e-bikes and electric cars. We guarantee the highest safety standards
---
Ensuring that our windows and doors satisfy rigorous safety standards is our number one priority. To make certain that you always feel safe with windows and doors by KATZBECK. We offer ideal
energy characteristics
---
High-tech windows let plenty of light and warmth into the home, and make sure the heating energy remains precisely where it is. The optimised properties of KATZBECK windows are reflected in their excellent photometric and radiant values.
Colours
---
Nice shades!
Katzbeck has plenty of options for you when it comes to designing a colour scheme. You can pick from a broad range of shades and effects for wood/aluminium and wooden products. In addition, you also have the option of choosing from a large number of topcoats in RAL colours.
Varnish coating
Our painting process involves three stages that guarantee ideal durability of the surfaces. Other coating structures are possible as well, depending on the wood type and the preferred surface.
Aquawood immersion impregnation: Protection against blue-staining and fungi, colouring
Aquawood Intermedio: faultless intermediate layer for '360° sealing' and less sanding work
Aquawood thick-layer varnish: Final spray-coating with outstanding weather resistance, elasticity and UV protection
Opaque finish
A three-stage coating is also applied to ensure an opaque finish: Impregnation, Intermedio or filler and topcoat.
Aquawood immersion impregnation: Protection against blue-staining and fungi, colouring
Aquawood injection filler: Insulation of the wood constituents, filler of Aquawood Intermedio for '360° sealing'
Acryl spray varnish: Final spray coating with outstanding weather resistance and elasticity
Handles and fittings
---
A handle on everything
Not only are the handles an optical highlight on your windows, they are also the parts you grasp when opening, tilting or closing. That's why the handles need to match your personal style, as well as the colour of the wooden frame and your home décor. How fortunate that our large range lets you pick and choose to your heart's desire! We also offer a number of special handles that satisfy different additional requirements. You are certain to find your ideal handle.
Standard model: our timeless standard model is available in the colours titanium, champagne, bronze, white and silver. Besides the basic version, there are also locakable models that are operated by key or push button, depending on your requirements.
Window fittings
You are well advised to consider the technical criteria and not just the design aspects when selecting your window fittings. Fittings are more than just decorative items; they are in fact THE main components to open and close your window elements. They determine the insulation, rainproof qualities and break-in resistance and are also key to the aspect of user friendliness – and therefore to your quality of life over decades!
Window hardware
---
It's the matching hardware that brings your windows to life. Katzbeck offers you an extensive hardware programme and is delighted to assist you in your selection.