Privacy screens and sun blinds
---
---
Sunny outlook.
People need sunlight to feel good. But it is also a nice feeling for a person to be able to determine how much sunlight they want to let into their homes: Usually it can't be bright enough in winter, but many of us prefer a bit more shadow in summer. Sometimes we need to see things clearly on a computer screen, or we would simply like a little more privacy from passers-by. Not to forget, it is also a question of energy efficiency if we deliberately lower the dissipation of heat through the windows on cold winter nights, or keep out the sunlight on hot summer days.
There are plenty of reasons to install sun blinds, privacy screens or anti-glare screens – and there are just as many solutions to satisfy your requirements for design and function. Here at Katzbeck, you are certain to find technically sophisticated and beautifully shaped sun blind systems for inside and out. Make the right choice for your own sense of well-being!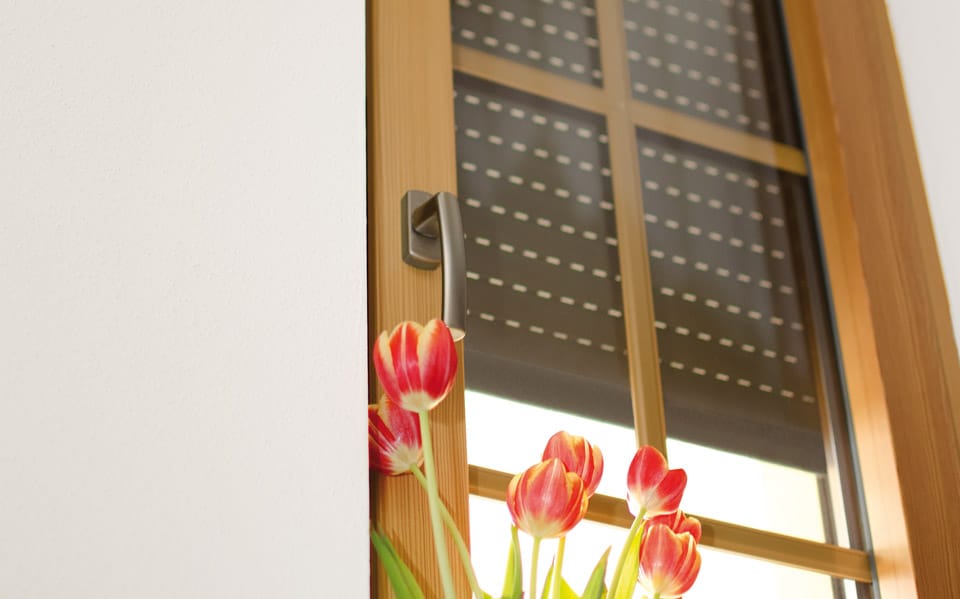 Roleplay
Roller blinds are a great way to darken and protect your home – from the cold in winter and the heat in summer. They don't take up much space and come in all shapes and forms:
One style of roller blinds is installed in a casing.
To ensure ease of use, Katzbeck recommends that you equip your roller and venetian blinds with an electric motor. Remote controlled models are available on request.
VORO PUTZ
A front-mounted casing that makes itself invisible: It is installed beneath the plaster layer and disappears behind the facade. It can be mounted in new builds or during refurbishment of older buildings, and is optionally available with roller or venetian blinds.
VORO SICHT
This front-mounted model matches any window system, is easy to install and ready to go in no time at all. The powder-coated aluminium panel means it is available in all RAL colours, as well as in the round, variegated VORO BRAVO version. It comes with roller or venetian blinds.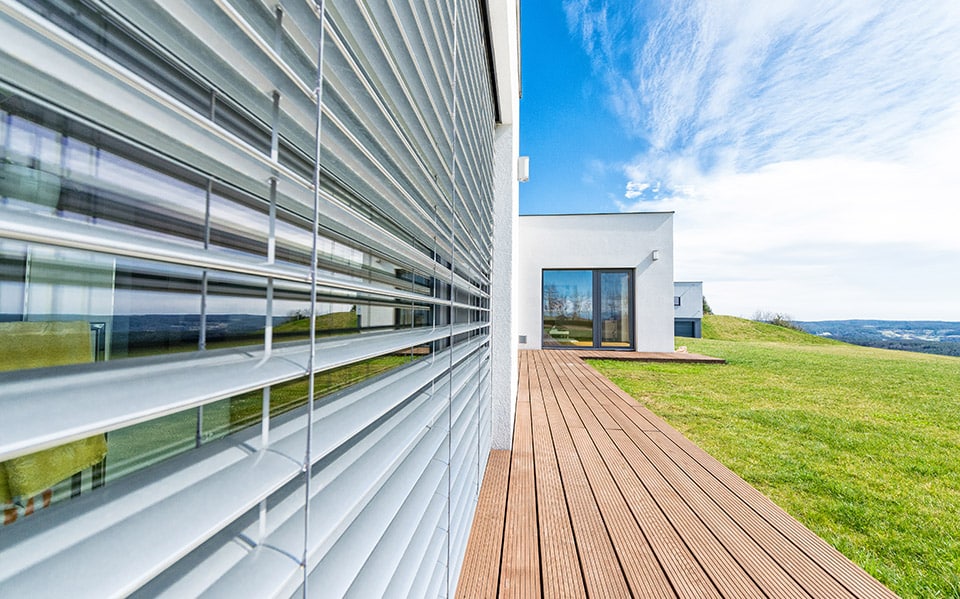 Playing a blinder!
External venetian blinds are visually appealing, multifunctional blind systems with particularly sturdy aluminium slats that run in lateral guide rails or on cord systems. Venetian blinds are especially popular for use on expansive glazing.
The slat angle is infinitely adjustable and therefore an ideal method of controlling the light entering the building. Venetian blinds also make great privacy screens – preventing unwanted attention from outside, while still giving you a free view of the outside world! They have become established as indispensable and stylish elements in facade design due to the large selection of colours and shapes.
RAFF S BLENDE
This venetial blind element is fitted with a visible panel made of powder-coated aluminium sheeting. It is suitable for new builds as well as older homes.
RAFF S PUTZ
The RAFF S PUTZ casing is installed beneath the facade rendering and therefore remains invisible. The blinds and the guide rails are available in the preferred, matching colours.
RAFF S SCHACHT
The ideal model for mounting in current encasements or boxes.
Venetian blinds are also available in surface-mounted cases!
Beam me up!
Aluminium or wooden beams, designed to suit the colour and style of your home, are the traditional way to add the finishing touch to your windows:
Slat beams
Country house beams
Rustic beams
Vario beams
Infill beams
Besides their functions to provide a sunscreen, to protect against burglary, to improve thermal insulation and to offer privacy, shutters also contribute significantly to creating a matching and attractive look for your home.